3-D Laser Radar
---
3D laser radar detects the location and movement of every object in real-time independent of light and weather, even at night and under bad weather.

3D laser radar was introduced a lot as level crossing obstacle detection system, and introduction was started more as monitoring system in the road safety system. In addition, the application to various fields is possible such as the object recognition by the robot eye under the bad environment, the invasion monitoring of the important institution, the soundness diagnosis of the structure.
---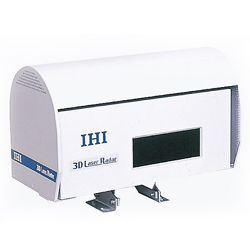 Level Crossing Obstacle Detection System
To date, over 2,400 units world wide of IHI's 3D Laser Radar are actively contributing to the prevention and reduction of accidents at railroad level-crossings.

Due to its accurate real-time detection capabilities and resistance to harsh environmental conditions, the SIL 4 * certificated 3DLR is a highly reliable safety solution for the railroad level-crossing market.

---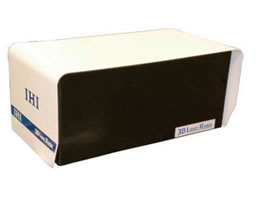 For Intelligent Transport System
By instantaneously detecting the size, speed and direction of moving objects such as vehicles and pedestrians the 3D Laser Radar contributes to the enhancement of road and traffic safety at locations such as intersections and bind spots.
Capable of covering large monitoring areas with one system

One 3D Laser Radar system can cover an area of distance 10~200m from the head with maximum horizontal angle 90°and maximum vertical angle 60. In most cases, this capability allows the entire desired monitoring area to be covered by one 3D Laser Radar system reducing the overall cost caused by multiple installations.

Resistance to harsh environmental conditions

Due to its unique noise elimination algorithm, the 3D Laser Radar's performance is unaffected by its environment's lighting and weather conditions including heavy rain and snowfall.

No interference to surrounding electronic systems

Due to its use of laser light rather than radio waves the 3D Laser Radar doesn't affect other electronic systems in its vicinity.
---