---
Logistics Systems
IHI is a pioneer in the field of logistics systems including automated storage, transportation and sorting systems. IHI delivers wide-ranging facilities and equipment such as automated storage / retrieval systems for refrigeration of up to minus 60 degrees Celsius, hazardous substances and storage and transportation equipment operated in clean rooms to various industries, with a scope covering food, distribution and chemical sectors. At IHI, we optimally exploit our rich experience and know-how to provide customers with overall system logistics solutions.
Automatic Storage/Retrieval System
---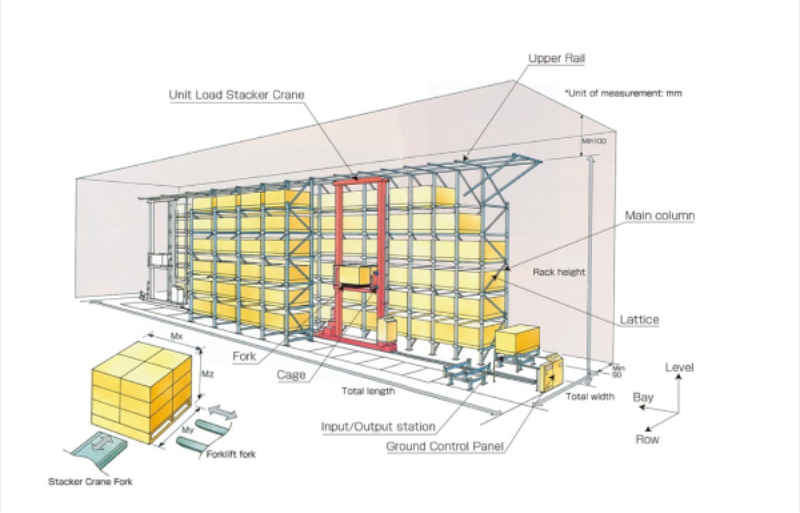 Using of dead spaces
The system makes full use of space right up to ceiling by the three-dimensional storage that integrates the rack and crane, thereby maximizing the existing storage space.
Ease of operation and labor saving
The operation only requires a single tap on the touch panel or a scan of a barcode reader. The loading/unloading task becomes fully automatic.

The system helps to reduce the workload of searching, walking around and picking up products. A single worker can operate multiple cranes, which is a remarkable labor-saving initiative.
Easy and accurate inventory management
The key point of warehouse operations is the handling of goods and inventory control.
A warehouse management that once required well-experienced and professional operator, now with an automated warehouse system can easily and accurately be managed by anyone via an inventory management computer.
Adopting First-in/First-out
With the WMS (Warehouse Management System), we can now automatically perform first-in and first-out, minimizing the damage and input/output of goods.
Improved safety and work environment
Segregated space for storage and accessibility for workers, improving the safety standard.
In addition, the automation of input/output minimize risks of human error and significantly improving the working environment by reducing worker workloads.

---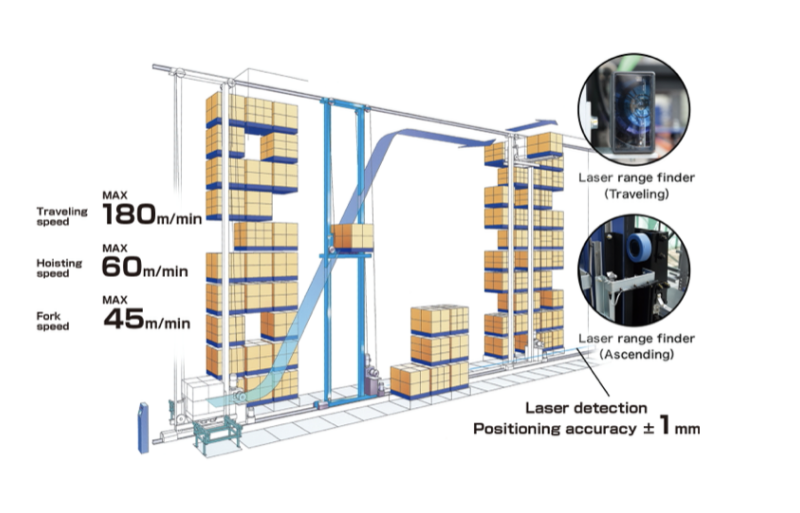 Unit Load AS/RS, Rackpack
Slim & Compact
We re-examined the structure from its existing framework to eliminate all unnecessary features and successfully reduce the weight of the crane by 30% and the rack by 10% compared to our conventional products. We also have better use of the limited spaces by using slimmer crane mast, which requires less space for installation.
Speedy & Smooth
Equipped with IHI's original Trapezoid Acceleration System, it features a control system that runs more smoothly and quickly, enabling input/output in shorter time, while minimizing vibrations to ease impact on cargo. Moreover, a servo motor is adapted to the fork drive to realize the high-speeds while preventing the loads from collapsing.
Energy-saving & Ecological
Equipped with power regenerative functions as standard, this function contributes to energy conservation and the suppression of unwanted heat.
Additionally, when equipped with the optional capacitor, it can also reduce peak power by effectively applying the regenerated electricity, thus increasing energy-saving effects.
Video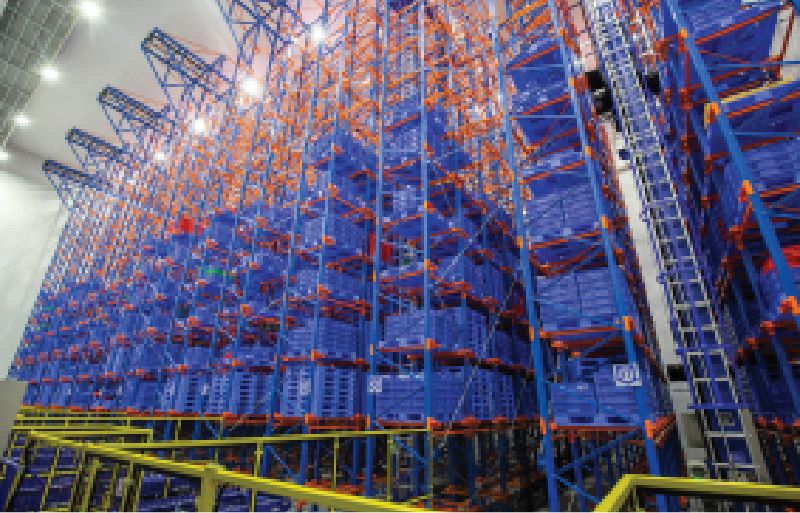 Rackpack Project Reference
---
---
AS/RS, Load weight 500kg, 4 crane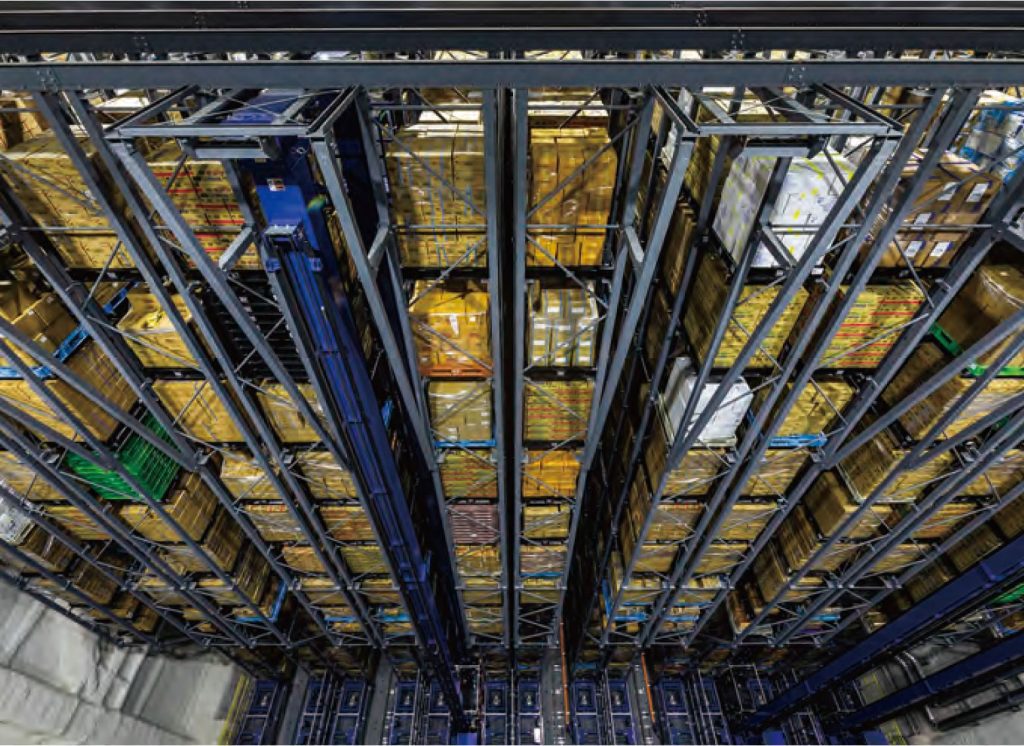 ---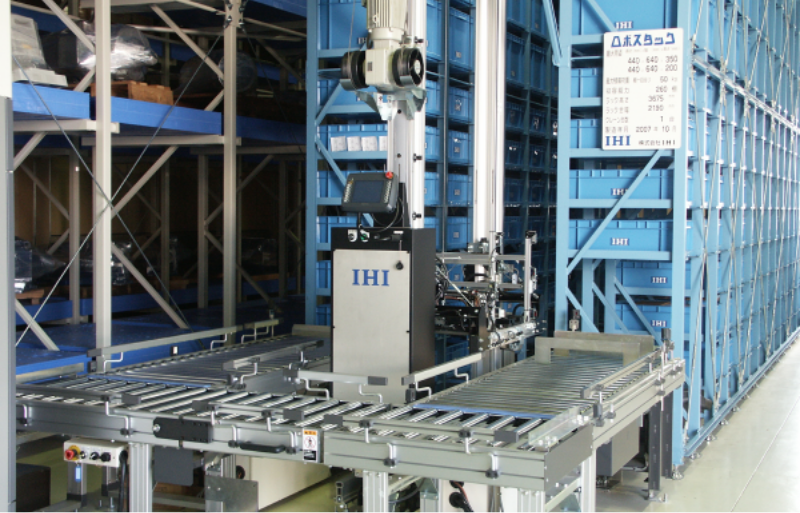 Mini Load AS/RS, Robostack
Vibration Control
Vibrations, which occurs when the crane accelerates/ decelerates can be controlled to a minimum. Thus, ensuring the transportation of goods to be smooth and gentle.
Noise Reduction
Urethane was adopted on the wheels alongside the aluminum rails; thus achieving outstanding noise reduction.​
High Stopping Accuracy
A laser rangefinder is adopted to position itself during travelling and hoisting. The system has achieved a high stopping accuracy through real-time distance measurements.
Video