---
Steel Bridges
IHI provides various types of bridges such as suspension, cable-stayed, rigid-frame and girder designs, in accordance with the construction environment and purposes.
In Japan, we participated in major construction projects such as the Great Seto (Seto Ohashi) and Akashi Kaikyo bridges. We have also participated in major overseas bridge construction projects, including the Second Bosporus Bridge and Golden Horn Bridge projects in Turkey, the Carquinez Bridge project in California in U.S.A., and the Binh Bridge project in Vietnam. IHI has also constructed numbers of pedestrian bridges to boost pedestrian safety.
Bridges
Suspension Bridges
---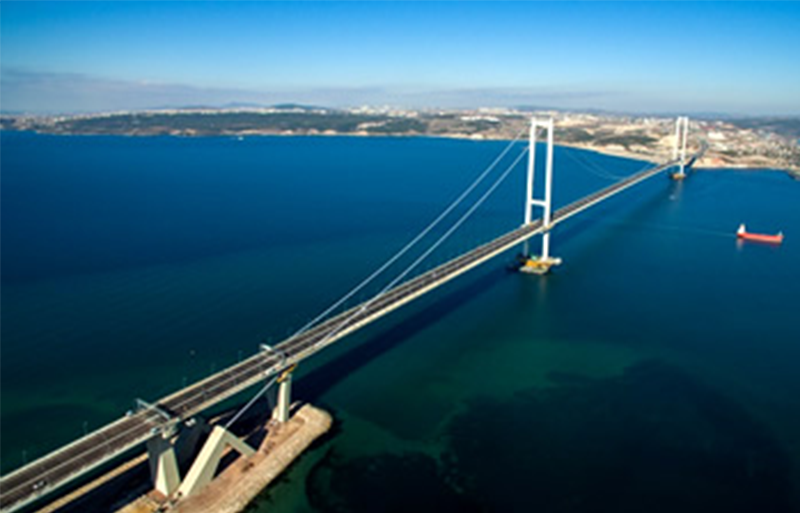 Suspension Bridge "Osman Gazi Bridge"
At 2,682 meters long and a center span of 1,550 meters, the Osman Gazi Bridge is the fourth longest suspension bridge in the world and has become the longest suspension bridge IHI has built overseas. IHI Group undertook the entire construction of the bridge as the single contractor and completed and opened it for traffic in June 2016.
---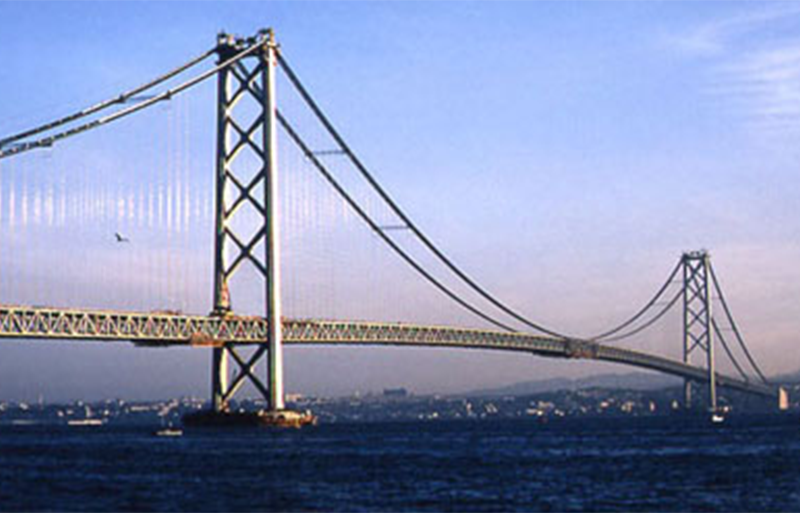 Suspension Bridge "Akashi Kaikyo Bridge"
IHI fabricated and erected the main towers and girders for the Akashi Kaikyo Bridge, the world's longest suspension bridge with total length of 3,911 m and center span of 1,991 m.
---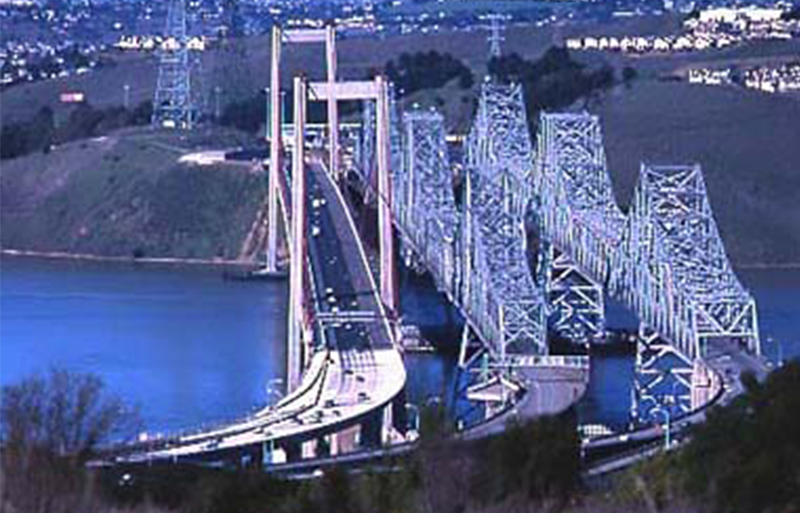 Suspension Bridge "Carquinez Bridge"
In March 2000, IHI received an order from an American joint venture company (JV) for over 10,000 metric tons of orthotropic box girders for the New Carquinez Bridge in the suburbs of San Francisco, California. This is the first long-span suspension bridge in U.S.A. in 40 years. IHI fabricated the girder at Aichi Works, and completed the delivery in March 2003. The bridge was opened to traffic in November 2003.
---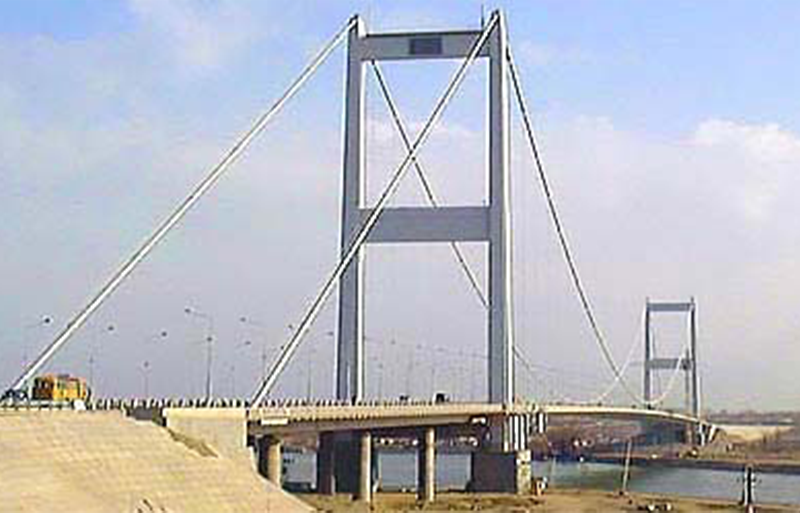 Suspension Bridge "Irtysh River Bridge"
As the sole prime contractor for the Irtysh River Bridge, the longest steel suspension bridge in the former Soviet Union (total length: 1,086 m center span: 750 m), IHI completed the project 13 months ahead of schedule.
Cable-stayed Bridges
---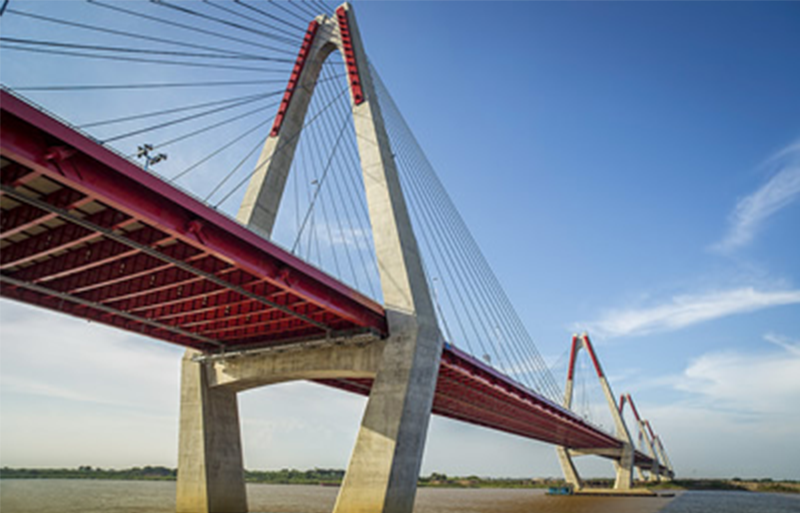 Cable-stayed Bridge "Nhat Tan Bridge"
The total length 3,080-meter Nhat Tan Bridge in Hanoi, Vietnam, is a rare 6 span continuous cable-stayed bridge. IHI Group received the order for engineering, procurement and construction on the superstructure . The bridge was completed and opened to traffic in December 2014.
---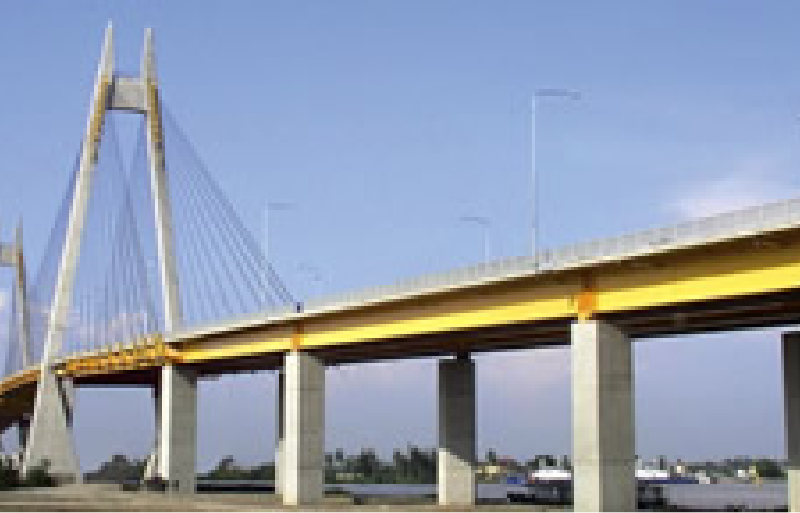 Cable-stayed Bridge "Binh Bridge"
This is 17 spans continuos bridge, including a cable-stayed bridge with its length of 1,280m, in Haiphong, Vietnam. IHI constructed the bridge comprehensively including roads and base construction.
Rigid-frame Bridges
---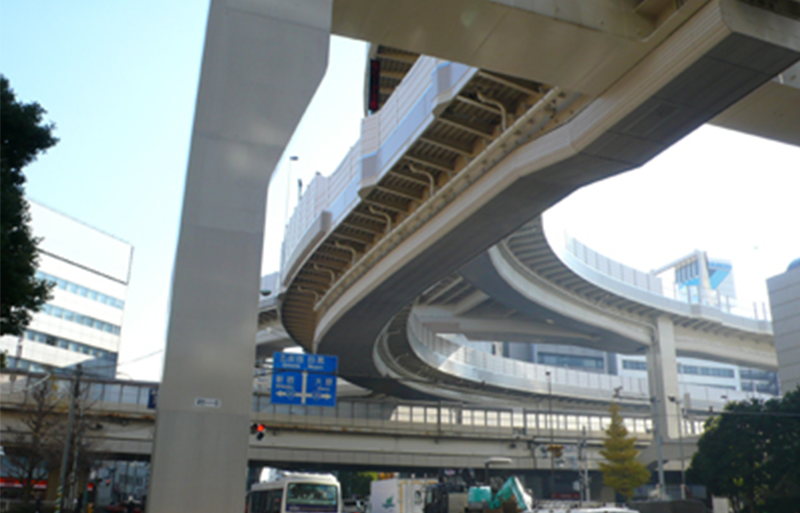 Rigid-frame bridge
This is the common structure in city highways that combines piers and beams. The photo shows Nishi Shinjuku Junction of Metropolitan Expressway, which is typical bridge with complex structure in city area junctions.
Girder Bridges
---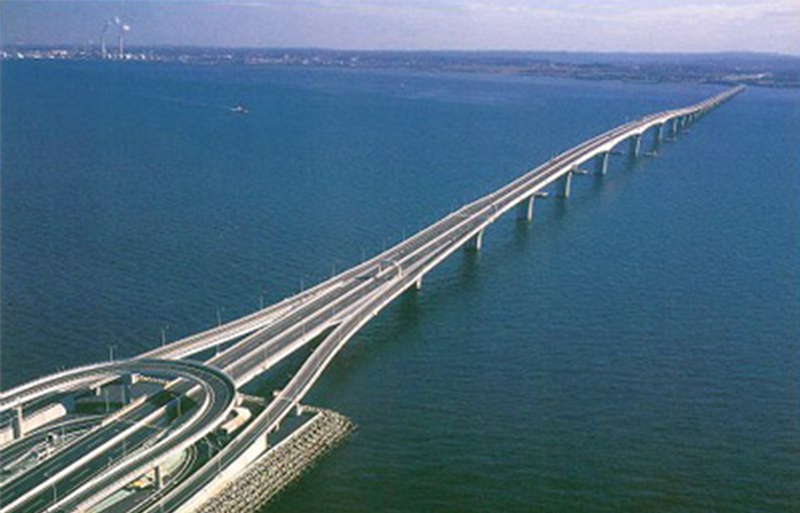 Girder bridge
This is a structural form, aiming for reducitonof construction cost, consists of main girders and floor slabs to support roads. The photo shows Isabu Interchange in Shizuoka City that consists of continuous composite plate girder bridges and continuous box girder bridges placed on the connection road between Tomei Expressway and New Tomei Expressway.
Pedestrian Bridges
---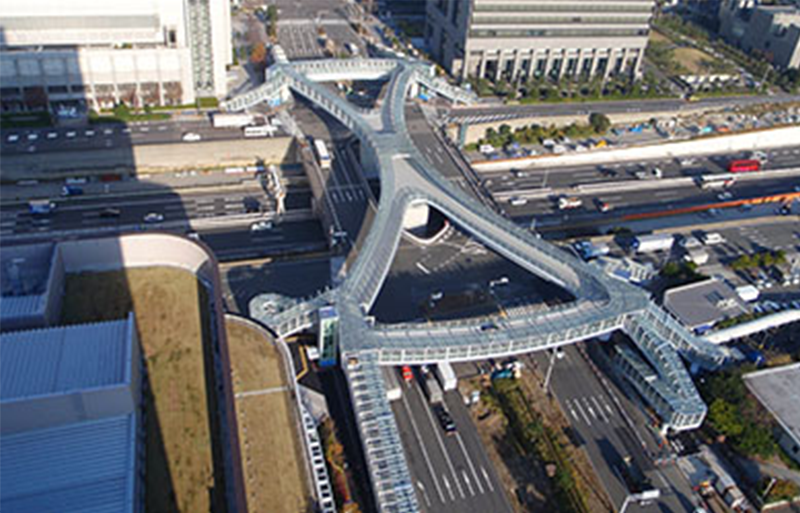 Pedestrian bridge
Our pedestrian bridges can fulfil a function as regional landmarks designed to blend in with urban landscapes.
Composite Slabs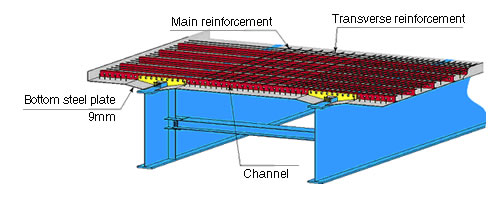 Channel beam composite floor system
IHI produces steel-concrete composite floor system consisting of bottom steel plates, channel steel reinforcements, and stud dowels.

This floor system can flexibly deal with longer spans. Since the bottom steel plate serves as the framework, it excels in terms of safety and construction capability and helps shorten the construction period.
Sound-absorbing Panels for the Traffic Noise under the Elevated Roads and Noise Barriers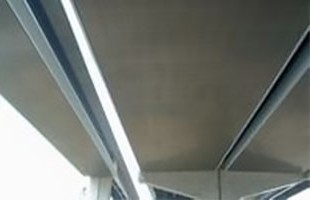 Sound-absorbing panels for the traffic noise under the elevated roads and noise barriers
Sound-absorbing panels for the underside of elevated roads and noise barriers were developed to limit the increase of reflection noise from the underside of elevated roads, while the sound isolating boards were developed to reduce noise at construction sites. the level required by the Ministry of Land, Infrastructure and Transport.
Temporary Assembling Bridge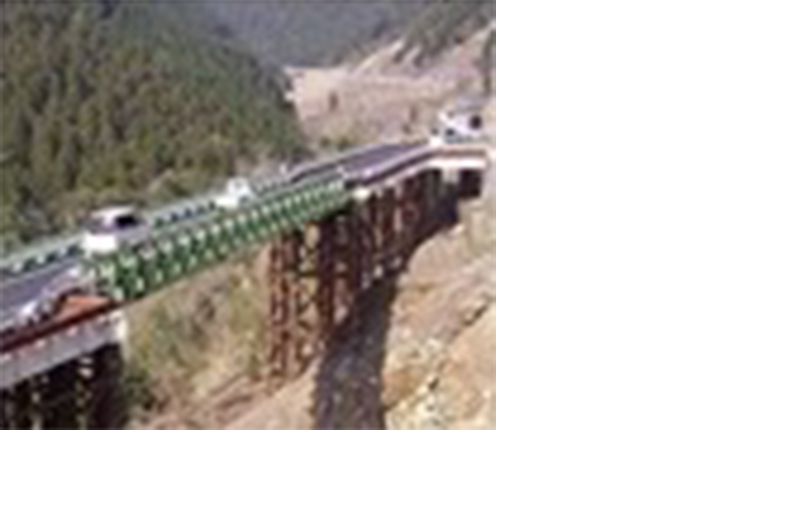 Temporary assembling bridge "TRIAS"
"TRIAS" is the all-purpose temporary assembling bridges that provides excellent solution when swift and cost-effective construction is required. As emergency bridges, they can be easily constructed on any site conditions within a short time and have sufficient capacity for heavy vehicles.

They come in "plate girder" and "truss" types and can be used for various purposes, including disaster recovery, scaffold board for construction and so on.
---