Transportation System
---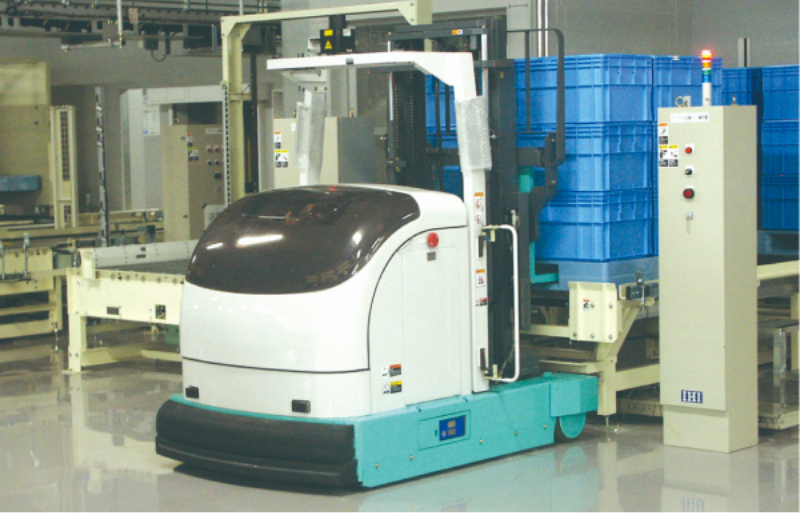 AGV, Fact Liner
Available for high efficient unmanned transportation, even on a complicated route. It can be easily combined with other logistics systems and material handling equipment to offer the best solution to meet customers' needs. Both magnetic-guided AGVs and laser-guided AGVs can navigate, spin turns and traversal movements which ensure efficient and unmanned transport through complex routes.
Safety
Various safety measures are implemented to ensure workers are working comfortably alongside the vehicles. In addition, all control devices and applications are designed to be fail-safe.
Appropriate Charging Systems
IHI offers appropriate charging systems tailored to users' layout and operating conditions to maximize the AGVs' transportation capabilities.
Various Line-up
IHI caters to the diverse needs of our customers with a wide-ranging lineup.

Magnetic Guided
Hybrid
Laser Guided
Video
---
RGV, Trans-liner
A high-speed, loading-friendly, Trans-liner achieve full automation and unmanned transportation featuring a spectrum of transfer equipment.
Drastic Improvement in Transport Performance
The high-speed type can achieve a maximum speed of 200m/min when moving freely in the forward or reverse direction. The system will automatically adjust the speed depending on the capacity which improves transport performance.
Extremely Smooth Acceleration Cargo-friendly Design
Inverter controls are adopted in all driving equipment and conveyors. Smooth acceleration capabilities are useful in preventing loads from the impact and shifting.
Wide Range of Transfer Equipment to Cover Various Tasks
The various types of transfer equipment such as conveyor, push-pull and lifter are utilized to achieve full automation of loading and unloading.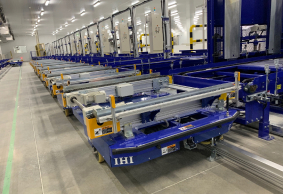 Project Reference
M-SENKO Logistics Co., Ltd.​
---
---
---
AS/RS Rackpack®
Frozen room type (-25℃), Chilled type​
16 RGV system,432 Digital Assort system​
Video
---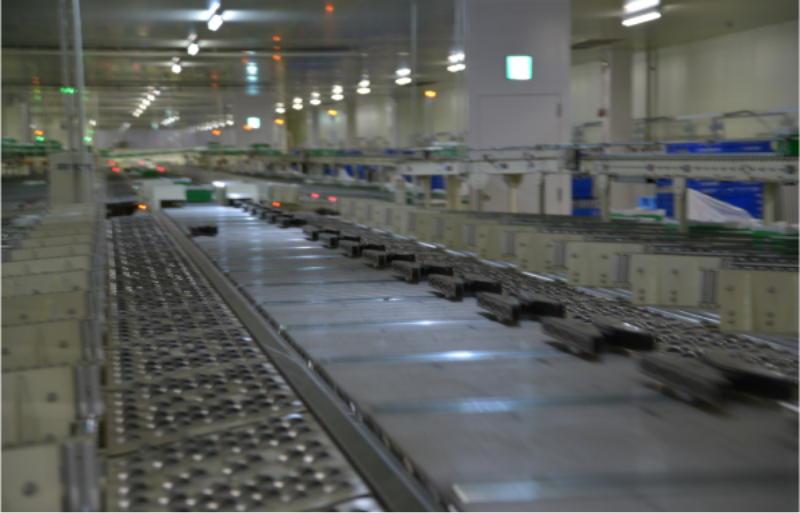 Conveyor
Our various lineup conveyors flexibly respond to the characteristics and installation conditions of the customers' transported items.
Various Product Lineup
Promote optimal conveyor transportation according to the various shapes and characteristics such as cases, cardboards, pallets, heavy or long items, and fragile items.
Optimum Transportation System
Integrated with peripheral equipment such as automated warehouses and sorting / picking equipment to achieve optimum transportation.
High-speed Sorting System
IHI provides high-speed type sorting conveyor system. It contributes to the rapidly expanding delivery service in E-commerce.