Binh Bridge
Completed in 2005 • Hai Phong, Vietnam
---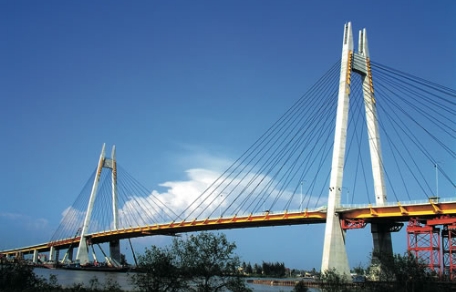 Binh Bridge is a located In Hai Phong city and is one of the biggest cable-stayed bridges in Vietnam. The total length is 1,280m. It consists of 17-span continuous steel and pre-cast RC slab composite girders, with three center spans of the cable-stayed type. A steel and pre-cast RC slab composite girder was selected to minimize its own weight and shorten the construction period. The bridge has connected the north and south of Hai Phong city, which was divided by the Cam River. It has improved the mode of commute for people in Hai Phong city, who had previously been commuting by ferry.
---
Type of Project
Infrastructure, Bridge
IHI Scope
Design, Fabrication and Construction
of 1,280m Cable-Stayed Bridge
Client
Hai Phong Bridge Projects
Management Unit
Consortium/JV
IHI Corporation/Shimizu Corporation
/Sumitomo Mitsui Construction Co.,Ltd.
Location
Hai Phong City, Vietnam
Duration
From September 2002 to May 2005