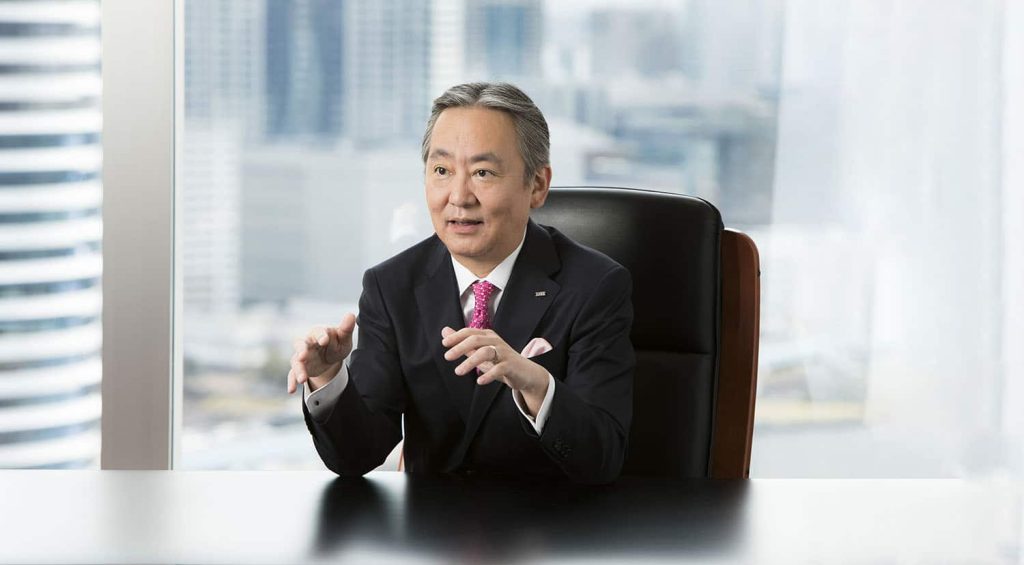 Today, Hiroshi Ide, President of IHI Corporation, instructed new employees through video to prevent the spread of the new coronavirus infection. The summary is as follows.
IHI Group's Vision for Society
We have the management philosophy of the IHI Group: "Contribute to the development of society through technology" and "Human resources are our single most valuable asset".
For more than 160 years, the IHI Group has taken on the challenges of social issues of each era and contributed to solving them through the power of our technology and human resources.
Today, we are facing major threats to sustainability, such as frequent natural disasters and global warming caused by climate change, and these issues are the greatest social challenges we face. But because we are a technology company, the IHI Group aims to " Create a World Where Nature and Technology Work in Unity".
To achieve this goal, we have redefined "carbon solutions," "maintenance, disaster prevention and disaster mitigation," and "air transportation systems" as growth businesses in our "Project Change" management plan, which concludes this fiscal year.
The IHI Group has been boldly taking on the challenges of society with its desire for the future and the power of technology, and we will continue to be a corporate group that is committed to technology and providing reliability.
IHI Group Initiatives for FY2022
The current fiscal year is the final year of our mid-term management plan, "Project Change.
The IHI Group has been implementing "Project Change" since FY2020 in order to respond to the changes in the business environment surrounding us, including the impact of the spread of coronary infection. This is an initiative to change the IHI Group with a sense of speed by eliminating the conventional wisdom and extension of past thinking, such as transforming into a robust profit structure, changing to a new way of working, and reforming our business model. Because the business environment is changing so dramatically, we need to change and adapt even faster than before. It is important to be willing to change before we are forced to change. Those of you who have newly become members of the IHI Group have no ties to the past, nor do you have to take anything for granted. It is precisely because you are new members of the IHI Group that I would like you to be at the center of change, and I hope that you will speak out.
Expectations for you
Natural disasters that occur once every 100 or 50 years are becoming more frequent, coronaviruses are shutting down the world, a rapid trend toward carbon neutrality is emerging, and uncertainty about the world situation is spreading. It is sometimes said as if the present is an era of peculiarly rapid change, but I think we should consider that this rapid change is no longer peculiar, but the normal state.
I have talked about the importance of change, but I would like us to be keenly aware that we exist in a world where drastic change is the norm, and to think about how we should change. In order to do so, it is important to look at what the future should be. I believe that it is important for both the project and your careers to think about the path of change from the ideal state to the current state.
Changing something is not an easy thing to do. However, there are dreams and hopes beyond willful change. IHI's corporate message, "Realize Your Dreams," is a message to all IHI Group employees that reminds us of our original intentions. I would like to ask all of you to hold on to the aspirations and dreams that are in your hearts today as you enter the company, and continue to work toward their realization.
Welcome to the IHI Group.