As one of Japan's three major heavy industries, IHI has contributed to the development of social infrastructure and is now making every effort to transform it into a sustainable one. Singapore has become a development base for IHI's environmental technology research in the Asia-Pacific region (APAC). We spoke with Mr Hiroki Kobayashi, President of IHI ASIA PACIFIC, to explore the current state of IHI's technology development, which is accelerating in Singapore.
Establishing a joint centre with A*STAR's ISCE2 strengthens its functions as an APAC R&D base
IHI's environmental technology is garnering global attention, particularly its expertise in ammonia, which is being recognized as a next-generation carbon-free fuel. While originally rooted in the shipbuilding industry, IHI currently focuses on aero engines as its main business. The conglomerate emphasizes the development of environmental technologies due to the imperative of reducing CO2 emissions, which is a pressing concern in all of its business sectors.
The company has declared its commitment to achieving carbon neutrality across its entire value chain by 2050. So, why did IHI choose Singapore as its R&D base in the Asia-Pacific region? Mr Kobayashi explains the advantages:
"Singapore, being a small country, embraces international talent and attracts a diverse range of researchers from around the world through the Agency for Science, Technology and Research (A*STAR), Singapore's public sector research and development agency. We wanted to become part of the ecosystem formed by venture companies' participation and promote innovation."
Throughout 2022, there were numerous reports about the company collaborating with government agencies and companies in Singapore for this development. In March, a Memorandum of Understanding (MoU) was signed to establish a joint centre for research and development with the Institute for Chemical, Energy, and Environmental Sustainability (ISCE2) under A*STAR. The primary research focus is on carbon-neutral solutions that balance greenhouse gas emissions and absorption.
"In January 2014, we signed a Master Research Collaboration Agreement with A*STAR and began collaborating on efficient research and development in various technological fields, including chemical technology. Prior to signing the Comprehensive Research and Development Agreement in 2011, we had already engaged in joint research with A*STAR on methanation technology, which converts CO2 into methane, the primary component of natural gas. This collaboration lasted until 2018, and in 2019, we successfully completed a demonstration device. The outcome of that collaboration provided the impetus for our decision to establish the joint centre."
Mr Kobayashi further explains why IHI started working with A*STAR: "In the late 2000s, IHI began working towards realizing a recycling-oriented society. We conducted research and development at our research institute in Yokohama, Japan, but we were unable to keep up with demand. Hence, we decided to set up research bases in the United States, the United Kingdom, China, and the Asia-Pacific region. In Singapore, IHI is collaborating with A*STAR."
Collaborating with a Singaporean Company to Develop Ammonia Technology, which is Garnering Global Attention
Furthermore, in October 2022, it was announced that a Memorandum of Understanding (MoU) would be signed with Sembcorp, a leading renewable energy company in Asia based in Singapore, regarding the use of fuel ammonia. Ammonia technology has been gaining remarkable progress among the company's carbon-neutral technologies, particularly in the field of rice cultivation.
Utilizing ammonia as a fuel involves employing it for thermal power generation, among other applications, as ammonia does not produce CO2 emissions when burned. IHI has been working diligently to establish an entire supply chain, ranging from the development of this technology to the establishment of an ammonia supply network.
"Both companies are currently discussing the possibility of implementing ammonia utilization technology within Sembcorp's energy infrastructure facilities on Jurong Island, Singapore. Jurong Island serves as a hub for the energy and chemical industries in Southeast Asia." Utilizing fuel ammonia for power generation can be accomplished without major modifications to existing infrastructure, such as gas processing facilities. This presents advantages in terms of cost and other factors, leading to increasing expectations worldwide.
"Jurong Island, where Sembcorp's facilities are located, is one of Southeast Asia's energy-intensive hubs. In 2021, the Singaporean government introduced the 'Sustainable Jurong Island' plan, aiming to transform Jurong Island into a sustainable base for the chemical and energy industries. As part of this initiative, the use of low-carbon fuels is being promoted to achieve the set goals. We are committed to leading the decarbonization efforts in the region, both in Japan and Singapore." (Mr Kobayashi)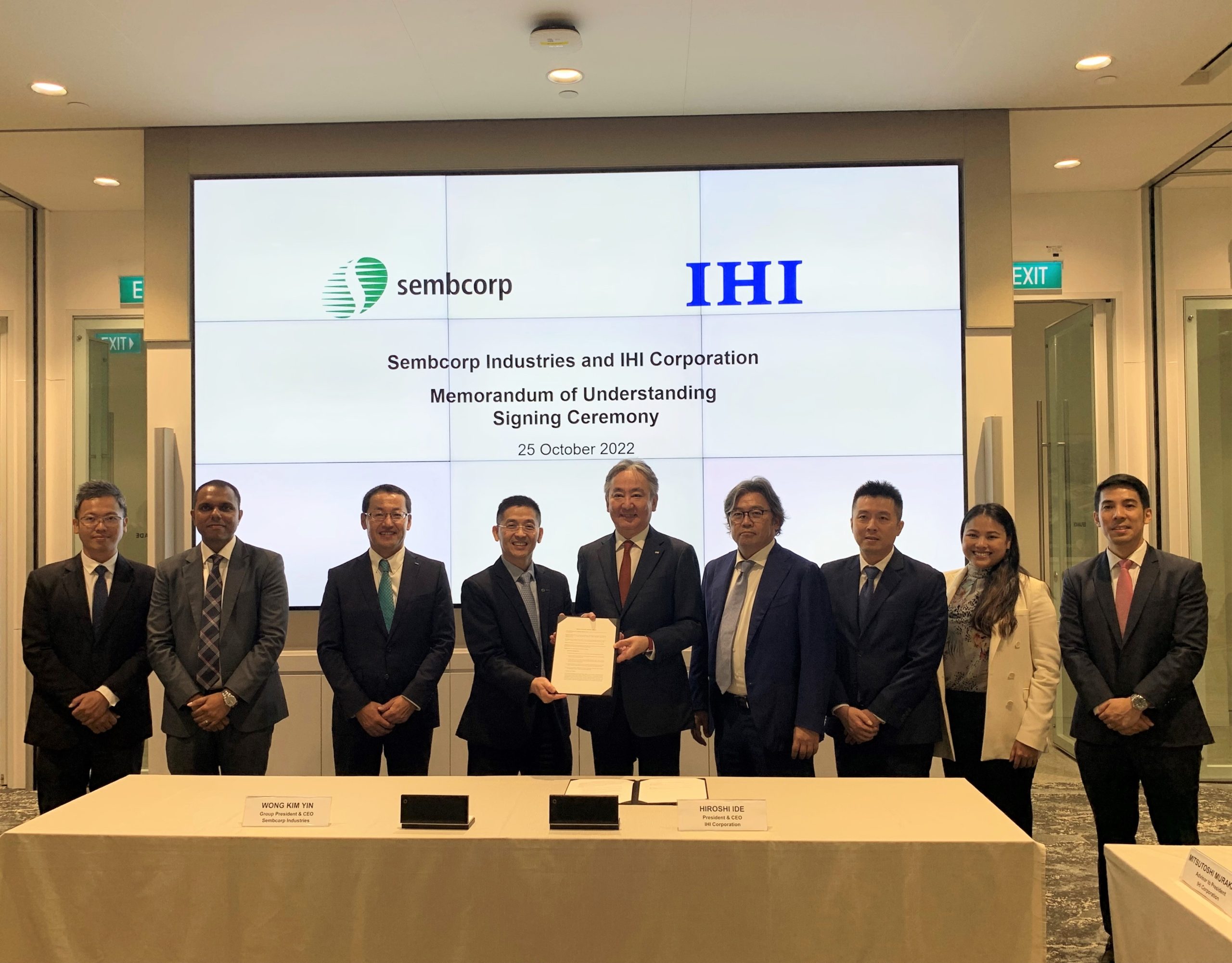 Restructuring Next-Generation Infrastructure Together with Singapore
Mr Kobayashi is deeply committed to this endeavour, but IHI's involvement with Jurong Island is not a recent development. The industrial district in the Jurong area has been under development since the 1970s, leading to the reclamation of Jurong Island.
"Our contribution to infrastructure facilities, such as plant construction on Jurong Island, began after a successful joint venture with the Singapore Economic Development Board (EDB) to establish Jurong Shipyard in 1963. This shipbuilding and ship repair company was created in collaboration with the EDB, and it served as the opportunity for us to expand into Singapore." (Mr Kobayashi)
Over the years, IHI has shared its expertise with countries in the Asia-Pacific region, starting with shipbuilding and expanding to include the manufacturing of various products and facilities, as well as the construction of social infrastructure such as bridges and water gates. In 2012, IHI ASIA PACIFIC was established in Singapore as a regional headquarters.
The company plays a crucial role in facilitating business operations, including the provision of indirect shared services to affiliated companies across the Asia-Pacific region. However, the Singapore headquarters has more functions beyond this.
"Just as with research and development, operating solely within Japan would make it difficult for us to expand our business globally. Singapore, serving as a hub for finance and human resources, enables us to easily expand our network. It connects the IHI Group with business opportunities in the Asia-Pacific region and contributes to the strong growth of IHI's global business." (Mr Kobayashi)
IHI, which has shared its accumulated expertise from Japan with Singapore and other countries in the Asia-Pacific region, has dedicated many years to developing infrastructure in the region. Now, it is expected to assume a new role—to rebuild infrastructure toward carbon neutrality. The use of ammonia as fuel is one example, and Mr Kobayashi expresses with a smile, "IHI is back."
"In addition to the technology related to fuel ammonia, we are also working on developing methanation technology and efficient biomass fuel burning, which is a renewable energy source. To ensure that these efforts are not limited to Japan but are firmly rooted in the Asia-Pacific region, Singapore, being the energy and financial hub of the region, is being emphasized. I believe that activities in Japan, as well as cooperation with governments and companies, will become increasingly essential."
This article is an adaptation of シンガポールでアジア太平洋地域向けの環境技術開発を IHI、持続可能なインフラ再構築への挑戦 (edb.gov.sg) by the Singapore Economic Development Board (EDB). The Singapore Economic Development Board (EDB), a government agency under the Ministry of Trade and Industry, is responsible for strategies that enhance Singapore's position as a global centre for business, innovation, and talent. Have the latest insights, stories and analyses on how companies are growing in Asia delivered to your inbox here.